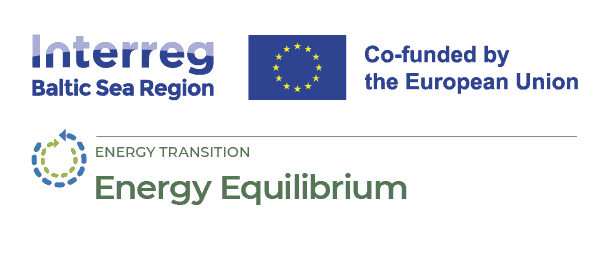 Carbon driven energy equilibrium at the municipal scale
Energy Equilibrium
Tauragė Hosts the Conference "Green and Viable Cities"
15 November 2023
On 26 October this year, Tauragė was invited to follow the Green Route of the Capital of Culture. The conference "Green and Viable Cities" took place here. The conference brought together 8 leading Lithuanian experts to answer questions on smart cities, green infrastructure, sustainable construction, community engagement and other topical areas.
The topics presented were Guidelines for sustainable cities; Tauragė towards climate neutrality; the importance of Green Municipalities Network in the way towards climate neutrality; social responsibility; innovation incubators of green cities: people, technologies, businesses or authorities; green Infrastructure for Lithuanian cities; sustainable construction in the context of green cities: challenges and opportunities; and energy education.
All these topics go in hand with the aims of Energy Equilibrium project, thus during the conference, Romualdas Petraitis presented the Lithuanian National Network of Green Municipalities and the Energy Equilibrium project, which is being implemented by the Lithuanian Energy Institute in cooperation with the Tauragė Municipality.
"It is very encouraging when sustainability initiatives come from active people and communities, but it is also important that city leaders support these initiatives. It is wonderful that the active and proactive people of Tauragė have managed to get their city included in the list of 100 climate neutral and smart cities in Europe. From today's conference, I realized that both the city of Tauragė and their leaders are very lucky for each other." - R. Petraitis, Coordinator of the Green Municipalities Network, shared his impressions after the conference.
The conference was presented at LEI website:
Tauragėje vyko konferencija "Žali ir gyvybingi miestai" – Lietuvos energetikos institutas (lei.lt)
And also You can see conference record (in Lithuanian):
Konferencija "Žali ir gyvybingi miestai" | Tauragė kviečia žengti Žaliuoju Kultūros sostinės keliu 🌱 Konferencija "Žali ir gyvybingi miestai" - gyvai iš Bendruomenių namų! Susipažinkite su... | By Tauragė - Lietuvos kultūros sostinė 2023 | Facebook
Taurage municipality is an associated partner of Energy Equilibrium project. Energy Equilibrium platform will be piloted in Taurage municipality as well.
This article was prepared by Farida Dzenajavičienė and Rimantas Bakas, based on cooperation with the the National Network of Green Municipalities and Taurage district municipality.
Additional links