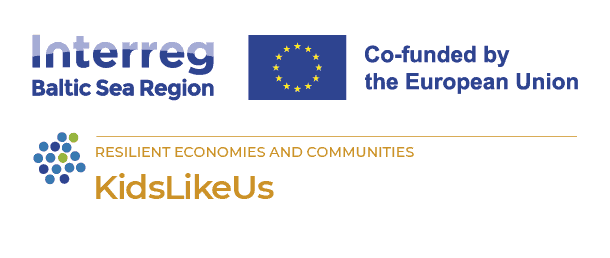 Empowering NGOs & public institutions in helping children overcome migration traumas using creativity and favors of nature
KidsLikeUs
Sensory furniture front panels designed for the little dreamers
20 September 2023
Imagine a world where every child could touch the stars and move planets with their own hands, discovering the boundless power they hold within themselves. With our new prototype it is possible!
Our Interreg KidsLikeUs project proudly joined forces with DREMA for KIDS action! Together, we're stepping up our game by collaborating with the Poznan International Fair, numerous companies from the furniture and wood sector, dedicated volunteers from vocational schools, and students and researchers from the Poznan University of Life Sciences. Over the course of just four days at the Poznan DREMA International Fair, a fully operational furniture factory was constructed, producing furniture specifically designed for children. And we were there!

We believe that a child's world should be filled with wonder, imagination, and endless possibilities. That's why we've partnered with Lab150 to create furniture front panels  that go beyond the ordinary, incorporating sensory design to truly engage and inspire the children.  As part of our project, special sensory fronts were created, which not only decorated the furniture produced during the event, but also allow children to touch the stars and move the planets. In addition to the educational function, sensory furniture fronts calm down, arouse curiosity, develop motor skills and imagination of young furniture users. The concept ideated  together with Lab150 will be developed further in cooperation with project partners and project associated organizations, and next tested in 3 countries in the Baltic Sea region. In the end it will be available free of charge to anyone interested in supporting children's cognitive and motor development through the use of sensory design.
Additional links