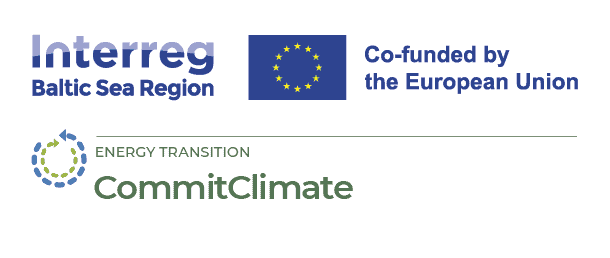 Towards energy transition and climate neutrality in the BSR municipalities
CommitClimate
Report on the Energy Situation in Sweden
19 October 2023
This report presents an overview of the energy landscape in Sweden as part of the CommitClimate project. The primary objective of this project is to develop a simulator, a computer-based model aimed at assisting municipalities in calculating their carbon dioxide emissions and climate footprints. The establishment of this model requires a comprehensive understanding of Sweden's energy situation, which is summarized in this report.
The CommitClimate project includes participation from several countries, namely Estonia, Latvia, Lithuania, Poland, and Sweden. Each participating country is tasked with producing a report that outlines its unique energy situation. These reports encompass critical aspects such as energy consumption, the energy mix, the utilization of renewable energy, legislative and regulatory frameworks governing the energy market, energy utilization within the construction sector, transportation sector energy use, and more.
This Swedish report has been meticulously produced by Sustainable Business Hub to provide valuable insights into Sweden's energy landscape and facilitate the development of the CommitClimate Simulator.
Download the report (in English):
https://www.sbhub.se/post/rapport-om-energil%C3%A4get-i-sverige
For more information about the report, contact Deepshikha Singhania:
deepshikha.singhania@sbhub.se
For more information about the project, contact Per-Johan Wik:
per-johan.wik@sbhub.se
Additional links