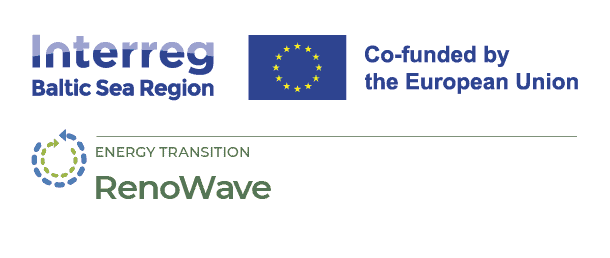 One-Stop-Shop extended model to increase the multi-apartment building stock renovation in the BSR
RenoWave
Renovation wave in the countries of the Baltic Sea region
12 April 2023
This spring, a total of 11 strong partners from 7 Baltic Sea Region countries started work on the RenoWave project. Together we will develop One-Stop-Shop (OSS) extended model specifically designed for the multi-apartment buildings in Baltic Sea Region countries.
The starting point of a sustainable renovation is always an individual decision of the building owner, balancing expected benefits and costs. Although today there is an abundance of information on any topic, including the energy efficiency of buildings, it is easy to get confused in this amount of information. The volume of renovation of multi-apartment buildings, or the so-called renovation wave, is still slow. 1/3 of the EU's buildings are over 50 years old with only very few percentages being renovated each year. These buildings are not, in general, professionally managed. The renovation decision is complicated due to multiple apartment owners, insufficient information on the current energy profile and potential benefits of the renovation. However, the municipality, the building manager, the most active resident of the building, national and regional support points have an important role to play in promoting renovation process.
RenoWave activities are planned to support regional public authorities, technical solutions and competence providing companies and multi-apartment building homeowners in planning and implementation of their energy efficiency renovation projects. That includes:


Data collection and EE target setting for regional authorities and energy agencies;


Awareness-rising campaigns and general advice for homeowners;


Facilitation of collaboration forums for project stakeholders;


Technical assistance to project stakeholders during development and testing the One-Stop-Shop concept.


The main result of the RenoWave project will be One-Stop-Shop model that includes traditional and additional OSS services that cover all the steps that are necessary to initiate and implement energy-efficiency renovation projects in multi-apartment buildings. At the project partners' meeting at the beginning of March in Tallinn, we analysed the different target groups that we will address and work closely with, planning and establishing of a one-stop shop.
For the next three years, we will share our experience about how we are doing, what challenges we are facing and how this model is developing. We invite you to get to know our project team and follow RenoWave news on our page
https://interreg-baltic.eu/project/renowave/
Information was prepared by Baiba Šelkovska, Communication manager, Vidzeme Planning Region. E-mail:
baiba.selkovska@vidzeme.lv
Additional links