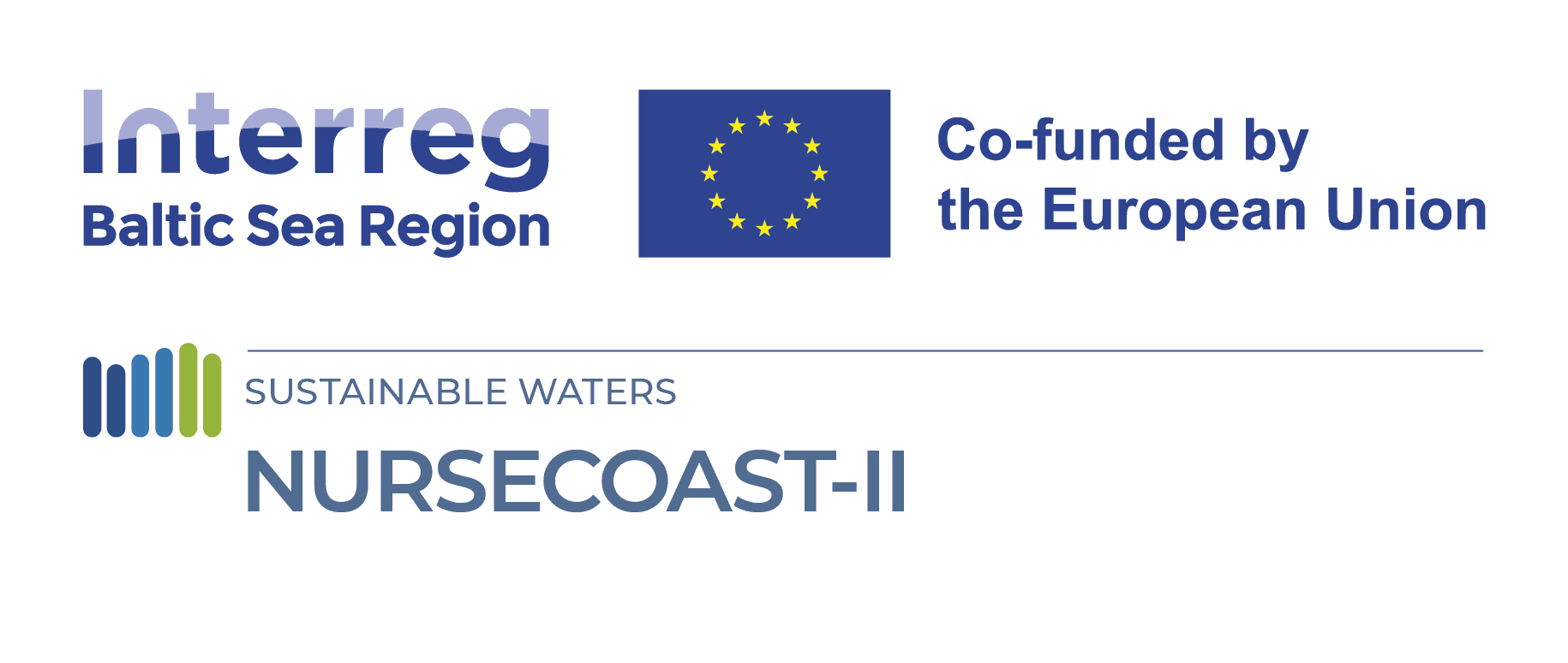 Model Nutrients Reduction Solutions In Near-Coast Touristic Areas
NURSECOAST-II
PRESS RELEASE: A new international project tackles wastewater issues around the Baltic Sea
28 June 2023
Coastal touristic towns, villages and settlements around the Baltic Sea experience seasonal fluctuations of wastewater generation, leaving wastewater treatment systems insufficient in the summer tourism season. New international project NURSECOAST-II aims to improve the health of the Baltic Sea by enhancing the small wastewater systems that are especially vulnerable to high seasonality.
Small towns and villages around the Baltic Sea have grown in popularity as tourism destinations after the Covid-19 pandemic. The peak season for the Baltic Sea tourism is summer, which brings more people into coastal regions and their establishments. However, the wastewater treatment systems have usually been designed for the yearly average population, leaving them incapable in the summertime. This creates various problems from unpleasant smell, overloaded municipal wastewater treatment plants to further contamination of the Baltic Sea, which is already in poor health.
NURSECOAST-II project took off in Barösund, an archipelago town in the western part of Inkoo, in southern Finland. "We decided to have a kick-off in this area because it represents well the challenges of wastewater seasonality. Every year, the retreat of the winter ice kicks off the tourism season and brings 4000 additional people to the village, creating 12 times more wastewater than in the wintertime," explained Ksawery Kuligowski, the project manager from the
Institute of Fluid-Flow Machinery Polish Academy of Sciences.
"Climate change brings the ice retreat earlier each year, extending the tourism season. We heard from the local partners that this year, the village had to manage with the smell from the wastewater as early as in May," said
Kuligowski. The
Inkoo Municipality is currently researching an appropriate solution for the village – this includes finding a suitable and affordable new technology for wastewater treatment, which considers seasonal fluctuations. The municipality will need to figure out whether to separate greywater and where to canalize it in the area with thick, rocky ground. "Similar challenges will be tackled in the project as a whole," added
Kuligowski.
During the next two and half years, NURSECOAST-II will pilot different approaches, such as various wastewater
treatment technologies, treated wastewater reuse, nature-based solutions, greywater and sludge management. Pilot projects
will run in Finland, Denmark, Latvia and Poland. In addition, e
xperts will conduct exploratory surveys on small wastewater systems to improve knowledge of operational problems.  As a result, NURSECOAST-II can offer several tutorials based on project results, policy guidelines for wastewater treatment and incentives for the business sector at the Baltic Sea tourism destinations.
The NURSECOAST-II project is funded by the Interreg Baltic Sea Region 2021-2027 programme and co-funded by the European Union. The project will run from 2023 to the end of 2025. It includes 17 partners from eight Baltic Sea region countries – Poland, Lithuania, Latvia, Estonia, Finland, Sweden, Denmark and Germany. 
M
ore information about the project
Project website:
https://interreg-baltic.eu/project/nursecoast-ii/
Project LinkedIn:
@NURSECOAST-II
Project manager: Ksawery Kuligowski
Project manager, The Institute of Fluid-Flow Machinery Polish Academy of Sciences
kkuligowski@imp.gda.pl
Additional links