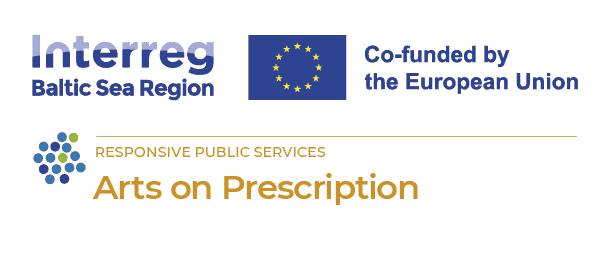 Arts on Prescription in the Baltic Sea Region
Arts on Prescription
Museums as places to improve the mental health and well-being of local communities – a good practice from Cēsis, Latvia
11 October 2023
In summer 2023 the Eduards Veidenbaums Museum Kalāči in Cēsis, Latvia, has concluded the project More Light! Inspired by the life of the Latvian poet Eduards Veidenbaums and the Kalāči family, the museum became a place where young people can develop mental health literacy and practice building harmonious relationships with people around them.
Kalāči is a museum of the first modernist of Latvian literature, Eduards Veidenbaums (1867-1892). It is located in the former farmstead Kalāči in Cēsis municipality (Latvia) owned by Veidenbaums family from the end of 19th century till 1940s. Eduards Veidenbaums lived only 24 years, and next to his revolutionary writings he has left a lifestory of a young and unpeaceful dreamer. With the project More light! the museum engaged in a new activity. It has become a place where young people can meet the young Eduards and accompany him on a journey of self-understanding, learning about their own mental health and ways of building harmonious relationships with others.

A new permanent exhibition and educational programmes created during the project reveal the poet's dreams and aspirations, troubled relationships with family and friends, fragile health, ideas of idealist democracy and equality, and, of course, his innovative poetry. During the summers of 2022 and 2023, the Museum hosted Sansusī Wellbeing Residences, where Latvian and Norwegian artists along with young people explored the museum's collection and created works of art that reflected mental health and well-being in the 19th century and today. The main target audience of the project were young people, their families and teachers.

The project More Light! revealed the significant potential of cultural heritage for exploring and strengthening mental health, especially among young people. The museum exhibition, workshops and artworks created together with contemporary art and design professionals served as a safe and stimulating environment in which to express oneself and to talk to others about difficult topics through the language of arts.

The works and skills developed during the project find a natural continuation in the Interreg BSR project Arts on Prescription in the Baltic Sea Region 2023-2025. The Kalāči museum is joined by other museums to pilot and evaluate an Arts on Prescription model programme in Cēsis municipality. The programme offers an opportunity to create a permanent framework for cooperation between the health and cultural sectors in the municipality. It also contributes to the image of museums as places for reviving mental health and well-being for local communities.

The project More light! was implemented with the support of the EEA Financial Mechanism 2014–2021 programme Local Development, Poverty Reduction and Cultural Cooperation project applications. Project number: EEZ/2021/1/03.
Additional links