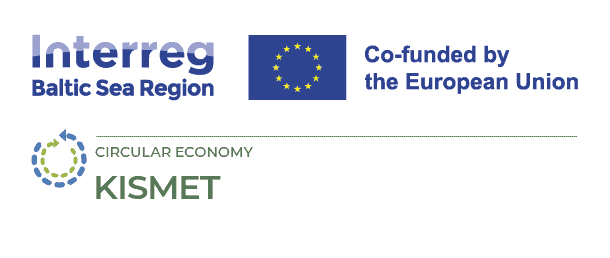 KISMET – sustainable food environments
KISMET
Local innovation partnership in Vilkaviškis kicks off piloting the KISMET solution
10 October 2023
On October 3rd, a local Kick-off event took place in Vilkaviškis, Lithuania, uniting municipal professionals, school leaders, business figures, and representatives from the Tourism and Business Information Center (TVIC), alongside various business organizations. The meeting aimed to introduce the objectives of the KISMET project, its benefits to Vilkaviškis, and collaborative action plans.


Introducing KISMET

Representing the Lithuanian Innovation Centre (LIC), Ms. G. Ramanauskienė gave an overview of the KISMET project. This international initiative, locally implemented by the Lithuanian Innovation Centre in conjunction with partners from Germany, Sweden, Denmark, Latvia, Estonia, and Finland, counts Vilkaviškis Municipality as an associated partner.

KISMET's primary objective is to transform the food ecosystems around the Baltic Sea into more sustainable and eco-friendly systems. Partners in KISMET exchange information and best practices related to food ecosystem transformation. The initiative equips partners with resources for working on food ecosystems, business promotion, health, public procurement, food policies, and the environment. The ultimate goal is to nourish an ecosystem in Vilkaviškis that facilitates the development of short food supply chains, supplying eco-friendly or local food to schools, kindergartens, hospitals, and care homes.

Local challenges

Deputy Mayor of Vilkaviškis, Ms. D. Riklienė, emphasized the municipality's vision of creating short supply chains, stressing the importance of involving local farmers. Local businesses and the municipality are collaborating effectively in Vilkaviškis, but farmers need to be integrated into this partnership more efficiently.

Feedback from school principals highlighted challenges, including the complexities of purchasing directly from farmers due to public procurement procedures, certification requirements for farmers, and limited storage facilities at schools. Restaurant representatives revealed a lack of participation in public procurements for food supply to healthcare and care institutions.

Agreements were reached, including scheduling the next meeting in November, inviting local farmers and public sector representatives, and providing farmers with relevant information via the municipality's website as well as discussing piloting the KISMET solutions further.

Stay tuned for updates on the KISMET project's progress and its impact on Vilkaviškis' food ecosystem.
Additional links