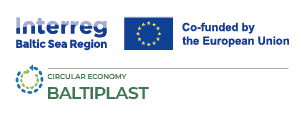 Baltic Approaches to Handling Plastic Pollution under a Circular Economy Context
BALTIPLAST
Innovative Ideas for Recycling Waste - Hackathon "DaibeZero"
03 November 2023
At the end of September, the Valmiera hackathon "Daibe Zero" was the gathering place for ambitious, young, and creative individuals, all united by a common goal: the generation of innovative ideas for recycling waste raised on the principles of the circular economy.
Our project partner, Valmiera Municipality Government, is actively involved in organizing the hackathon DaibeZero, which will take place on September 23rd and 24th in Valmiera city and the Regional Waste Management Center Daibe (RWMC Daibe). This event will serve as an idea marathon, during which participating teams will have the opportunity to create innovative waste-recycling ideas based on circular economy principles. They will work under the guidance of professional mentors and utilize various types of waste available at the RWMC Daibe. These ideas will be evaluated by a professional jury at the end of the hackathon.
In order to promote efficient waste management, as well as move towards the implementation of a circular economy, the new waste recycling project idea involves researching existing materials to create new materials that can be utilized in the national economy or serve as new raw materials for product manufacturing.
In Latvia, there are still untapped opportunities in waste processing, allowing for innovative ideas and the establishment of new processing companies. Potential entrepreneurs interested in founding such processing companies will have the chance to access infrastructure development opportunities at RWMC Daibe.
Participants will be challenged to find commercial solutions for four types of waste groups: polymer waste (PP-polypropylene, PS-Polystyrene), used textiles waste, glass fiber production residues, and compost (separation of impurities and application in the economy). Currently, all these materials are stored in the Daibe landfill.
During the event, the moderator will facilitate the presentation of ideas from all participating teams to the attendees.
Mentors from various industries, bringing specialized knowledge and expertise, will guide the teams in shaping their innovative ideas into research or business models. Additionally, they will assist in selecting the most appropriate technological solutions for material processing.
The teams will present their completed projects to the jury - experts, who will assess the projects at the end of the event to determine the best, most innovative, and viable idea, whose authors will receive the main prize of the hackathon.
From the BALTIPLAST project perspective, this event serves as a platform for the development of innovative and sustainable solutions to address plastic waste recycling challenges and advance circular economy principles in the Baltic Sea Region.
Participants are welcome to apply until the 18th of September 2023.