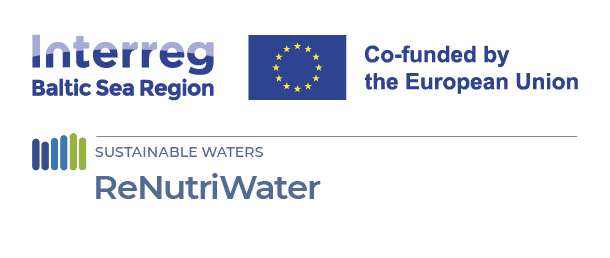 Closing local water circuits by recirculating nutrients and water and using them in nature
ReNutriWater
Horizon Europe's Missions – the Lighthouse for the Baltic and North Seas
17 May 2023
ReNutriWater got distinguished at the Lighthouse for the Baltic and North Seas conference
As part of Europe's largest scientific and research programme, Horizon Europe, great emphasis is placed on the involvement of local communities and the popularization of knowledge among beneficiaries and scientific and research units as well as other stakeholders. Horizon Europe is divided into so-called Missions. One of them named "Restore our Ocean and Waters" concerns measures to improve inland waters and ocean status. The Mission launched the so-called Lighthouses, i.e. activities for the ocean and waters in four selected regions of Europe: the Arctic Sea Region, the Mediterranean Sea Region, the Danube basin, and the Baltic and North Sea Region.
On April 25-26, the Lighthouse for the Baltic and North Seas was launched. During the conference in Hamburg, many projects and activities for improving the situation in our region were presented.
The ReNutriWater project was distinguished as an action to reduce emissions from economic activities into the sea and as part of the circular economy in water management.
Klara Ramm from the Chamber of Economy "Polish Waterworks" presented the context and challenges of the project: effective disinfection, safe use of municipal services, and overcoming psychological barriers among users. Klara presented an animation prepared by Monika Wojciechowska from Savonia University.
Our project is a part of the Mission Charter – a call for joining efforts to achieve the objectives of the Mission Restore our Ocean and Waters by 2030:


Protect and restore marine and freshwater ecosystems and biodiversity, in line with the EU Biodiversity Strategy 2030;


Prevent and eliminate pollution of our ocean, seas, and waters, in line with the EU Action Plan Towards Zero Pollution for Air, Water, and Soil;


Make the sustainable blue economy carbon-neutral and circular, in line with the proposed European Climate Law and the holistic vision enshrined in the Sustainable Blue Economy Strategy.


During the conference, the participants got acquainted with many interesting initiatives. Most were directly related to the sea. However, our ReNutriWater project shows that action for the oceans starts inland.
Additional links