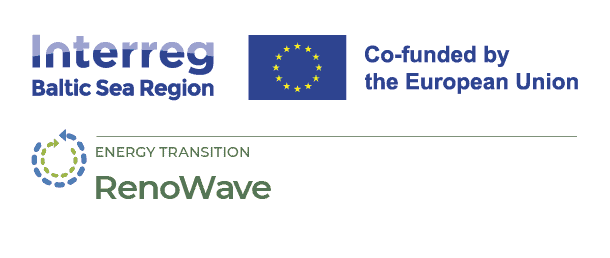 One-Stop-Shop extended model to increase the multi-apartment building stock renovation in the BSR
RenoWave
Homeowners came together in Võru
13 September 2023
The first meeting of the homeowners assembly took place at the Võru Culture House "Kannel". The collection, which is unique in Estonia, mainly brings together apartment associations interested in renovation.
"In the municipalities of Võru County, 64% of the buildings were built before 1980, and most of them need to be updated and made more energy efficient," said Siim Meeliste, the project manager of the Võru County Development Centre, who led the assembly. He also said the long-term national goal is to contribute to reducing energy consumption. By 2050, the goal is to have a nationwide reconstruction on the circuit.
Nearly 30 people were present. Meeliste introduced them to the repair needs and statistical indicators of private houses and apartment buildings in Võru County. The web was directly connected to the city of Lappeenranta, where engineer Matti Pylkkö shared the Finnish experience based on a homeowners' collection like this, which is called a forum there.
A lot of questions arose during the presentation by Jana Toome, partner relations manager at the joint institution of Enterprise Estonia and KredEx. These were related, for example, to the conduct of procurements in case of applying for the KredEx full renovation grant. There was also a lively debate between the members of the apartment associations themselves who arrived about whether all apartment owners are still able to pay the installments if the apartment association takes out a repair loan from the bank.
The lack of technical consultants was mentioned as a problem – especially in Võru County, where they are already too busy and unable to help new interested parties. It also became apparent that there was no support measure to help the multiapartment building associations carry out partial repairs, such as replacing a leaking roof.
A survey was also conducted on the spot to get a better idea of the obstacles to repairs in the county. Its analysis will help guide the resources of the Interreg cooperation project RenoWave to address bottlenecks. The aim is to support the repair of apartment buildings in the countries of the Baltic Sea region.
The next homeowners' assembly meeting is expected in the fall, probably in September.
Link
to
the
article
:
https://lounapostimees.postimees.ee/7803098/vorus-tuli-kokku-koduomanike-kogu
Information prepared by Jaanus Mark/Võrumaa development Center
Additional links