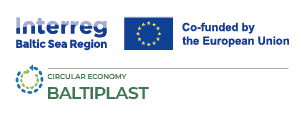 Baltic Approaches to Handling Plastic Pollution under a Circular Economy Context
BALTIPLAST
Highlights of Autumn 2023 - Educational Initiatives and Environmental Engagement
09 November 2023
Our project partner, Daugavpils City Municipality, seized the rainy autumn months as a perfect opportunity to educate the younger generation about plastic pollution and how to make more mindful decisions in protecting the environment. They achieved this by incorporating the values of the BALTIPLAST project into a series of fruitful events.
Inspiring Youth for a Sustainable Future

From September 18th to October 8th, the European Sustainable Development Week (ESDW) 2023 unfolded in Latvia and throughout Europe. As part of this initiative, the Daugavpils Development Department, in collaboration with the Education Department, AADSO Ltd, and the Latgale Zoo, organized a special event for 6th and 7th-grade pupils. The event, held at the Daugavpils Innovation Centre, aimed to introduce students to the 17 Sustainable Development Goals and provide insights into projects like BALTIPLAST and Urb-area, along with their associated educational resources. These resources were designed to enhance the learning experience within schools.

The highlight of the event was an educational game, where teams of students engaged in various tasks to deepen their understanding of ecological issues and explore how they, as individuals, can contribute to solving these problems. The enthusiasm and curiosity of the young participants were truly inspiring. Alongside the educational activities, the event provided an opportunity for pupils and teachers to explore the Daugavpils Innovation Centre's exhibition, a valuable resource for STEM education.

Innovative Upcycling at the "Gift(ED)" Event

On October 10th, 2023, the BALTIPLAST project took part in the "Gift(ED)" results event, which was a part of the Erasmus+ KA2 Collaborative Partnership project. The MIKC Daugavpils School of Design and Art "Saules skola" organized this event, and it focused on upcycling and reusing materials, including plastics. The project culminated in the development of a training course for the Erasmus+ platform "Gift(ED)," promoting sustainable practices and environmental responsibility.

Empowering Communities in the Fight Against Climate Change

The CERV programme's funded project, "European Cooperation Against Climate Change" (COGREENEU), aimed to engage citizens and communities in meaningful discussions and actions related to climate and the environment. To achieve this, they organized transnational activities, workshops, and events to facilitate the exchange of ideas and decisions on environmental sustainability.

On October 23rd-24th, 2023, an international event under the COGREENEU project took place at Vytautas Magnus University Kaunas in Lithuania. Representatives from the Daugavpils city municipality and the coordinators of the BALTIPLAST project actively participated. They hosted a workshop titled "Civic participation, with a focus on youth involvement, in sustainable development - municipality perspective." The workshop addressed environmental issues, particularly plastic waste. The event also provided an opportunity to introduce the BALTIPLAST project to a wider audience, furthering its goals of environmental sustainability and community engagement.

These events demonstrate the power of collective efforts and a shared commitment to a more sustainable and environmentally conscious future. Through education, innovation, and community engagement, they pave the way for positive change in the world of sustainability and environmental protection.