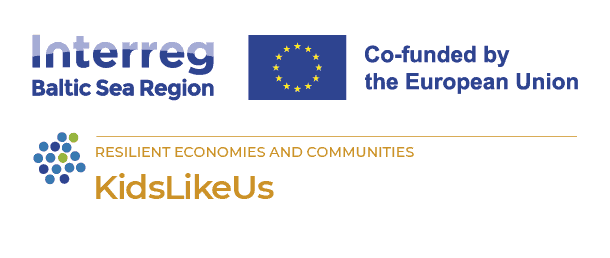 Empowering NGOs & public institutions in helping children overcome migration traumas using creativity and favors of nature
KidsLikeUs
Dive into a World of Fun: Tech Events for Kids in Finland Capture Hearts
19 September 2023
Picture this: a bustling room filled with laughter and the buzz of excitement as children from diverse backgrounds gather to explore the wonders of technology. This was the scene at two remarkable events held in Finland, as part of the KidsLikeUs project in May 2023. These tech-focused gatherings offered youngsters a unique opportunity to engage with cutting-edge gadgets and interactive experiences, while also fostering a sense of community and camaraderie among the participants.
The first of the two events took place at the Finnish Red Cross Club, a welcoming space where predominantly refugee families come together to bond and relax. Here, children played under the watchful eye of Red Cross volunteers, while their parents enjoyed some downtime with a comforting cup of coffee. The club adopted a technology theme for this special occasion, adding an extra layer of excitement to the atmosphere. A similar spirit could be found at the second technology event, held in the spacious sports hall of Satakunta University of Applied Sciences. This fantastic meeting was organized in collaboration with Lapsis, a Finland-based organization dedicated to supporting families with children in the Satakunta region through various themed meetings and events.

At both technology events, the children had the possibility to play physically activating interactive Mototiles, test their reflexes with Blazepods, virtually ski the Alps, learn to program a mTiny robot, relax while resting head on pillows that play music, cuddle Paro the seal robot and its friend robot cat with accessories, and walk on sensory tiles. There was a lot of excitement, healthy competition, and playfulness among the small children up to early teenagers. Some technologies even required children to patiently wait in line for their turn. At the end, everyone could vote on their favorite technology. These two events showed that physically engaging gamified activities are a big hit among children, especially if they can be played together.

Co-organizer of the events was Satakunta Testbed project, with help of students from Soteekki service centre from the Satakunta University of Applied Sciences.
Additional links