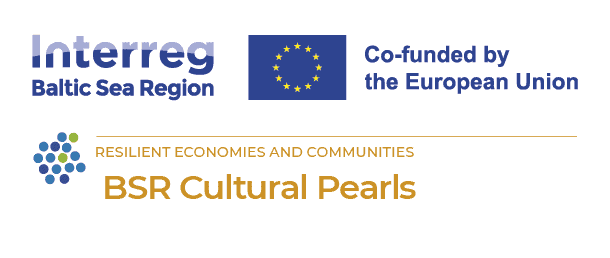 Baltic Sea Region Cultural Pearls for more resilient Cities and Regions
BSR Cultural Pearls
Cities and Regions in the Baltic Sea Region Compete for the BSR Cultural Pearls 2024 Title
18 September 2023
The BSR Cultural Pearls 2024 title competition is now underway, following its pilot launch in early August 2023 and the invitation extended to smaller cities, municipalities, and regions to apply for the title.
This BSR Cultural Pearls title recognizes and celebrates the efforts of municipalities in leveraging culture to enhance social resilience within their communities.
The title is part of the BSR Cultural Pearls project that seeks to strengthen culture-driven social resilience in the Baltic Sea Region (BSR). The 3.5M euro project is running for a period of three years until December 2025 and is funded by the Interreg Baltic Sea Region programme.
For the inaugural "BSR Cultural Pearls" title, applications have been received from a total of 12 municipalities across the Baltic Sea Region, including Denmark, Estonia, Finland, Germany, Latvia, Lithuania, and Sweden. The response indicates a strong interest from local authorities in enhancing social resilience through culture.
As part of the selection process to determine the four finalists for the BSR Cultural Pearl 2024, the eligible candidates will now be invited to create a detailed Culture & Resilience Action Plan (CuReAP), based on a template provided by the BSR Cultural Pearls project. This plan will be assessed by the jury and form the basis of the decision.
The final result will be unveiled on 5 December 2023, following the assessment of each action plan by an international jury. Only four candidates will be awarded the title of "BSR Cultural Pearl 2024".
Emphasising the award's commitment to inclusivity, each candidate is evaluated individually and irrespective of their size, with the main focus placed on how cities and regions view culture as a pivotal force. They are also assessed based on plans to utilise cultural assets to promote community participation, inclusivity, and bolster social resilience.
Throughout the selection process, BSR Cultural Pearls partners will offer support to candidates in the form of webinars and mentoring, assisting them in developing their Culture and Resilience Action Plans.
For further details about the BSR Cultural Pearls programme, interested parties can visit
www.culturalpearls.eu.
Additional links