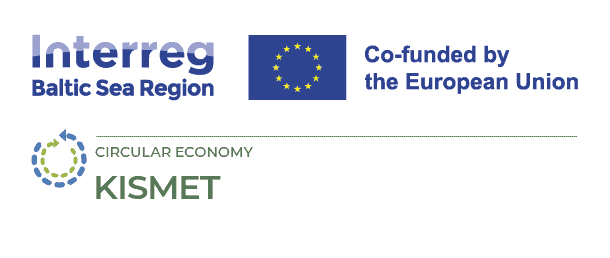 KISMET – sustainable food environments
KISMET
Championing Sustainable Food Innovation: Our Baltic Sea Region KISMET journey
22 September 2023
In a world where the importance of sustainability has never been more critical, an ambitious journey is underway across the Baltic Sea Region.
It's a journey fueled by collaboration, innovation, and a shared commitment to reshaping the way we produce and consume food. At the heart of this transformation is the KISMET Interreg Baltic Sea Region project, a beacon of hope for a more sustainable and environmentally responsible future. The following initiatives and local authorities are teaming up to foster cross collaboration of public administration, industry, society and science for implementing new innovations in the food and agriculture sector faster and more efficiently. You can find their short profiles for download in the section "Solutions" as Local Innovation Partnership cases.

Hamburg: Revolutionising Food Production

In the vibrant city of Hamburg, partners from the upcoming Food Cluster and the Authority for Economy and Innovation (BWI) are joining forces with the forward-thinking visionaries at the Future Food Campus (FFC). Within the KISMET project, this visionary partnership seeks to integrate various food production systems, from precision fermentation to cultivated meat and vertical farming, under one roof. The result is enhanced energy efficiency, circularity in production processes, and the establishment of an indoor food production hub that sets a global example. Furthermore, operating under the umbrella of the FoodCluster, the FFC and other innovative initiatives are poised to strengthen Hamburg's position as a sustainable food hub. This collaborative effort showcases how a city can leverage innovation and partnerships to lead the way in sustainable food production, reinforcing its commitment to a healthier planet, thriving communities, and regenerative agriculture practices.

Satakunta/FI: A Pioneering Sustainable Food Environments Project

Satakunta's Food Cluster, in collaboration with Prizztech Ltd., is embarking on a pioneering circular economy project to redefine food production. Their focus is on under-appreciated inland fish species and sustainable plant-based foods, addressing crucial water-related challenges. Traditionally relegated to the background, these fish are now at the forefront of innovative strategies that not only champion the virtues of fish but also promote new plant-based foods, emphasising nutritional value, quality, and sustainability. This initiative is unique in its holistic nature and addresses crucial water-related challenges, with the goal of rethinking local food production.

Södertälje/SE: Bio-districts and Beyond

Södertälje has unveiled its Local Innovation Partnership (LIP) within KISMET aimed at transforming its food system in alignment with EU and national sustainability goals. This collaborative effort involves municipal departments, regional SMEs, academia, and strategic partners, focusing on capacity building for local authorities, encouraging the public sector to lead sustainable food demand, and creating Bio-districts to foster circular, organic, and local food production. The initiative addresses critical issues, including health and welfare, climate impact, local resilience, circularity, and water resource protection. The project's vision is to establish a sustainable, circular, resilient, and inclusive regional food system, promoting awareness, regulations, healthy diets, viable regional food production, and innovative sustainable food businesses. This initiative has been developing for many years and sets an inspiring global example for true sustainable food systems.

Tartu/EE: Battling Food Waste

Tartu has taken a pioneering step in the fight against food waste and the promotion of sustainability with the launch of their innovative pilot project. Over the past five years, Estonia has witnessed a significant increase in food waste, resulting in annual losses estimated at 164 million euros. In response, Tartu, a leader in Estonia's drive towards carbon neutrality by 2050, is leading the charge against food waste. The city's "Climate and Energy Plan for 2023-2030" and the "Food Strategy for Tartu County for 2022-2030" emphasise the importance of reducing food waste and encouraging sustainable consumption. Spearheaded by Tartu Biotechnology Park, this pilot project aims to engage stakeholders, support local food producers, and develop strategies to address food waste in the region. It also seeks to raise awareness about food waste and promote sustainable and cost-effective food production methods. This initiative reflects Estonia's commitment to sustainable practices and serves as an inspiring example of proactive measures to achieve ambitious sustainability goals.

South Savo/FI: Co-Creating Sustainable Food Solutions

The South Savo Food Cluster has embarked on a "Sustainable Food Initiative" aimed at developing strategies and focusing on educating the region's food industry. This initiative, driven by a commitment to sustainability and community involvement, will see customers, producers, and food service providers working together to co-create innovative, environmentally friendly food products. Modern food education programs are set to empower consumers with the knowledge to make informed and sustainable food choices, while a strong emphasis on promoting local, eco-friendly food products aligns with regional strategies for economic growth and food tourism. South Savo's pioneering project not only represents a significant stride towards a greener future but also stands as an exemplary model for other regions seeking to embark on similar journeys towards sustainability and responsible food practices.

Vilkaviškis/LT: Leading the Green Revolution

In a significant stride towards a greener and more sustainable future, the Local Innovation Partnership (LIP) in Vilkaviškis, Lithuania, is taking bold steps to transform the region's food systems. This visionary initiative aligns with the European Union's target of achieving 25% organically cultivated area by 2030, Lithuania's circular economy roadmap, and the municipal food supply strategy of Vilkaviškis district municipality. The Vilkaviškis LIP, a collaborative effort involving multiple stakeholders, addresses the central challenge of promoting healthy and sustainable food production and consumption through a multifaceted approach. This initiative not only promises to boost the local economy but also fosters environmental stewardship, improved public health, and community well-being through farmers' markets and farm-to-table initiatives. The Lithuanian Innovation Centre (LIC) plays a vital role in driving this transformation, fostering collaboration and supporting sustainable practices across the food supply chain.

Vidzeme/LV: Embracing Sustainable Economic Growth

In a forward-looking effort, the Vidzeme region in Latvia is embarking on a transformative journey towards sustainable economic growth, guided by the principles of the European Green Deal and the Farm to Fork Strategy. The initiative is led by the Vidzeme Planning Region (VPR) and prioritises the development of sustainable food systems as a cornerstone for economic revitalisation. As the region faces the challenges of limited knowledge and collaboration within the food industry, a pioneering pilot project has been launched to promote healthy and sustainable food production and consumption. It will strengthen the local economy and provide a shining example of how sustainable food systems could flourish in the region.

Vejle: Revolutionizing Food Production and Consumption

Vejle, a city renowned for its industrial prowess in food production and green technology, is leading the charge towards a more sustainable and circular food ecosystem. With a significant portion of its private employment linked to food-related industries, Vejle boasts a thriving community of agricultural producers, food processors, and logistical experts. The city's tradition of public-private collaboration has given rise to the innovative KISMET initiative, designed to unify ongoing efforts within a food innovation hub. The Food Innovation House and the Culinary Institute have three primary goals: crafting delectable plant-based meals in collaboration with chefs and nutrition experts, supporting local circular practices for plant-based products, and inspiring the community to make environmentally responsible food choices.

These collective efforts are setting the stage for a brighter, more sustainable future for food production and consumption across the region. As we champion sustainability, reduce waste, and embrace innovation, we move closer to a world where our food systems nourish both us and our planet. The KISMET Interreg Baltic Region project journey is a testament to the power of collaboration and commitment in creating a healthier, more sustainable future. Stay tuned for updates as we continue to shape the future of food.
Additional links