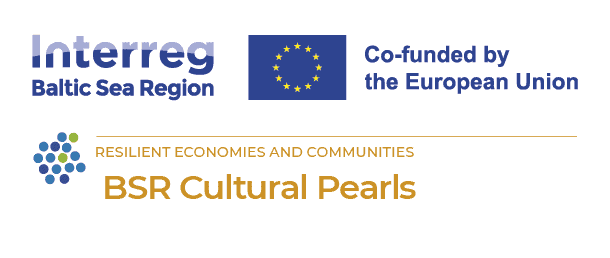 Baltic Sea Region Cultural Pearls for more resilient Cities and Regions
BSR Cultural Pearls
BSR Cultural Pearls
BSR Cultural Pearls: Strengthening social resilience by tapping into the potential of culture
29 March 2023
The Baltic Sea Region (BSR) is poised to become a vibrant epicentre for culturally-driven social resilience as the BSR Cultural Pearls project officially kicks off on March 29-30, 2023 in Stockholm, Sweden.

With the official kick-off of the 
BSR Cultural Pearls
 project that will take place on 29-30 March 2023 at the premises of the Council of the Baltic Sea States (CBSS) in Stockholm, Sweden, the Baltic Sea Region (BSR) is set to become a vibrant hub for culturally-driven social resilience. 
Co-funded by the
Interreg Baltic Sea Region Programme
and led by the
Council of the Baltic Sea States
(CBSS), this innovative initiative will embark on a three-year mission to enhance the social resilience of smaller cities and regions in the area by utilising cultural and local assets. 
"Social resilience is what helps us to absorb, bounce back or even bounce forward from all sorts of threats and adversities, such as for instance natural disasters, economic crises or human conflicts," said Felix Schartner Giertta, the project coordinator at the CBSS. "Culture is a cornerstone of community-building, thus increasing social resilience, especially in the Baltic Sea region."
The 
BSR Cultural Pearls
 project specifically aims to strengthen social resilience in Baltic Sea Region municipalities and regions by harnessing the potential of local assets of culture and creativity. 
The project contains several key components, including a repository of good practices on increasing social resilience through culture, and will inspire municipalities and regions to create their own social resilience action plans. 
Additionally, the project will offer tools specifically designed to help municipalities develop tailored social resilience plans, a peer-mentoring programme to support municipalities in implementing their social resilience plans, and the BSR Cultural Pearls Award, which recognises outstanding culture-driven social resilience work developed by municipalities.

Project Partners




Council of the Baltic Sea States (CBSS) – lead partner;

 




Alytus municipality (LV); 

 




ARS BALTICA (DE); 

 




Baltic Sea Cultural Centre (PL); 




Danish Cultural Institute (DK); 




Heinrich Böll Foundation Schleswig-Holstein (DE); 

 




Loov Eesti/Creative Estonia (EE); 

 




Northern Dimension Partnership on Culture; 

 




Regional Council of Ostrobothnia (FI); 

 




Ministry of Justice, European Affairs and Consumer Protection of Land Schleswig-Holstein (DE); 

 




Varde Municipality (DK); 

 




Vidzeme Planning Region (LV).

 



Project duration

January 2023 – December 2025
Funding

The BSR Cultural Pearls project is funded to 80% by the ERDF via the Interreg Baltic Sea Region programme. Additional funding comes from the project partners.
Official website

https://interreg-baltic.eu/project/bsr-cultural-pearls/
Social media

Twitter:
@CulturalPearls
#BSRCulturalPearls
#SocialResilience
Contact

Felix Schartner Giertta, Project Coordinator, BSR Cultural Pearls, Phone: +46 73 026 73 12, Email: 
felix.schartner.giertta@cbss.org
Additional links