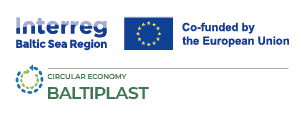 Baltic Approaches to Handling Plastic Pollution under a Circular Economy Context
BALTIPLAST
BALTIPLAST Participated in the "Environmental Days 2023"
23 June 2023
Daugavpils City Municipality organized an event to boost knowledge about waste sorting. This event organized by PP10 DCM (Project Partner 10 Daugavpils City Municipality) increased the projects' visibility in Latvia while creating the perfect opportunity to fill the knowledge gap of consumers.
The events had a strong focus on waste and environmental awareness. Young people actively participated in waste monitoring expeditions, while teachers and environmentalists engaged in educational discussions about waste management. The events aimed to raise awareness about waste management and encouraged public participation and advocacy in environmental issues.

Over 850 students and teachers from all local schools joined the event.  The participants were invited to fill in a questionnaire and test their knowledge about waste sorting. Over 130 questionnaires were filled in during the event and the results have now been compiled and emailed to the participants. The results showed that no one answered all the questions correctly.

The event was organized in cooperation with EUROPE DIRECT centre  Dienvidlatgale.
Additional links