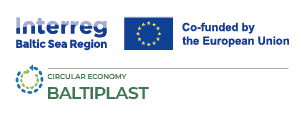 Baltic Approaches to Handling Plastic Pollution under a Circular Economy Context
BALTIPLAST
BALTIPLAST kicks-off: Joining Forces for a Cleaner Baltic Sea Region
06 April 2023
The first steps to prevent and reduce single-use plastics in the Baltic Sea Region began with a Kick-off Meeting of the BALTIPLAST project which took place from 8th to 10th February in Riga, Latvia.
During this three-day event, working clusters have been identified within the consortium of eighteen project partners representing six different countries from the Baltic Sea Region. The diverse and complex issue of single-use plastics was debated and actions to fight plastic pollution were agreed upon. The BALTIPLAST project focuses on five groups of activities, these are: benchmarking best practices in the Baltic Sea Region, implementing solutions at a strategic level in municipalities, implementing soft solutions in schools, municipalities and businesses, implementing technical and technological solutions as well as solutions at a household level for plastic consumption behavior change of inhabitants.

On the first day, the activities were centered around building a strong relationship between the partners and to provide deeper understanding of key elements of project administration, management, and finance with the guidance of the project coordinator appointed from the Hamburg University of Applied Sciences, Germany. On the second day, activities were organised as a mix between working groups and plenary presentations to ensure a better understanding as well as a firm grasp of the specifics of each level that the project aims to address. Through the working groups, the main actors for each group of activities were clarified and the target groups that will benefit from the solution were identified. Additionally, a constructive and pragmatic discussion took place within the working clusters to define the details of the pilots. On account of the pilots, the BALTIPLAST project will also test the proposed solutions and will transfer a complete package of findings, results, and learnings among the fine-tuned solutions.

During the final day of the event, the consortium agreed on the dates and times for the monthly Core Group meetings and biannual General Assembly meetings. The group will convene soon in Vasteras, Sweden, to monitor project progress and align the work of different groups of activities. The Kick-off meeting ended with a brief feedback session where participants reflected on necessary actions and specific take-home tasks.

The Kick-off meeting was a success in multiple aspects, as it not only brought together partner countries and fostered trust-based relationships between members, but also identified areas of synergy where different groups of activities intersect and can mutually support each other.
Additional links