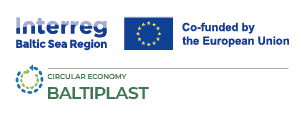 Baltic Approaches to Handling Plastic Pollution under a Circular Economy Context
BALTIPLAST
A Clean or Dirty Environment Starts with Us
14 September 2023
This initiative was organized by Valmiera Municipality under the umbrella of the International Campaign "Save our Sea" .
As part of this event Līga Bieziņa, Deputy Head of the Development Department, Development Planner of Valmiera Municipality participated in a discussion on microplastic pollution and the impact of littering on the environment. During the debate the speakers drew attention to the need for educating the citizens and the importance of raising awareness of the principle "When you walk in nature, what you bring you also take away".

As many of the natural areas of the municipality are in the close vicinity of the river Guaja our project partner organized a local clean-up day on 03.09.2023, to support the campaign's mission with practical and impactful actions. In the course of the event our project partner, Valmiera Municipality, together with volunteers collected and analyzed waste from the river to determine the amount of litter derived from plastic materials.

The clean-up day served as a great opportunity to educate the participants and to highlight how they can contribute to a cleaner environment through simple actions.
Additional links