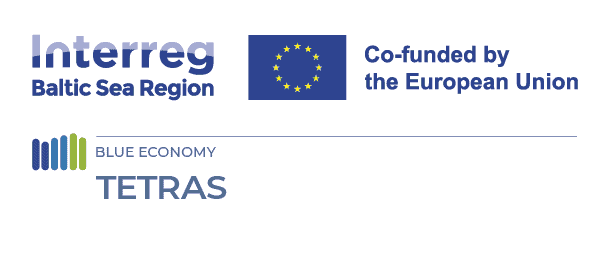 Technology transfEr for Thriving Recirculating Aquaculture Systems in the Baltic Sea Region
TETRAS
Pilot 4 - Small-scale RAS for data collection and social awareness
27 April 2023
Hand in hand with promoting recirculating aquaculture and industrial symbiosis among authorities and decision-makers, and attracting investment, it is fundamental to increase public understanding of these systems and their benefits.   Pilot 4 aims to increase public understanding of recirculating aquaculture through a small-scale RAS combined with aquaponics by providing a clear example of how they work and their associated benefits and a more profound understanding of the nutrient cycle.
Pilot Owner:
Guldborgsund Municipality Bioeconomy Hotspot
Location:
Guldborgsund, Denmark
Partners involved:
University of Gdansk (PL), Klaipeda University (LT), and Klaipeda Science and Technology Park (LT)
Type of symbiosis:
water, nutrients, knowledge
Keywords
: RAS, aquaponics, water treatment system, social awareness, LCA, knowledge transfer
Context
Aquaculture's importance continues to grow at a time when environmental concerns are at the forefront of people's minds and consumers are increasingly interested in sustainable food production.
Social perception plays a crucial role in promoting sustainable aquaculture practices and the RAS industry's growth and development.
Among them, recirculating aquaculture systems (RAS) are gaining significance as they protect wild fish stock by offering a sustainable and environmentally friendly alternative to traditional offshore aquaculture. RAS are closed-loop systems that treat and recirculate the water and filter out waste. RAS can be established in any location, regardless of whether freshwater or marine species are cultured, making them a flexible and efficient solution for meeting the increasing demand for seafood with a controllable environmental impact.
RAS technologies are developing quickly, and it is increasingly common to hear about new projects in different locations. Despite the growing positive perception of RAS as a way for efficient and sustainable food production, some challenges affect its social acceptance. One of the main challenges is the lack of social awareness and public understanding of the technology, which can lead to misconceptions and distrust. Additionally, the investment costs associated with establishing a recirculating aquaculture system can be a significant barrier for small-scale farmers. Concerns about the potential environmental impacts of the technology, such as energy and water use, may also arise. Addressing
these challenges requires documentation, education, and communication to improve the understanding of these systems.
Aim & Outcome
Led by the Bioeconomy Hotspot Gulborgsund (Denmark), Pilot 4 aims to establish a small-scale (RAS) to improve social awareness of RAS. The pilot will also showcase the potential symbiosis of RAS and crop/plant production. As part of the pilot activities, a filtration system for water cycled from fish to agro-production will be evaluated. The suitability of plant species for integration into the RAS aquaponics system will be investigated too.
Housed within the Guldborgsund Zoo and Botanic Garden facilities, the pilot will show in a comprehensive fashion to the ca. 65,000 annual visitors how nutrients do not disappear and how they can be further used, for example for growing plants. The pilot will also contribute to a better understanding of the concept of circularity, efficient resource use, and symbiosis.
Pilot 4 will provide factual material for developing communication and dissemination material aimed at informing the public and consumers about seafood production and recirculating aquaculture systems.
Relevance
Social perception plays a crucial role in promoting sustainable aquaculture practices and the RAS industry's growth and development. Usually, commercial RAS facilities are not accessible to the public. Pilot 4 will bring RAS closer to people, it will showcase how these systems work, and their advantages; it will contribute to communicating and demystifying RAS production. It will allow farmers focused on other crops to see the potential of RAS to complement their activities. Schools and other education partners will have the opportunity to have hands-on experience with RAS and aquaponics.
Pilot 4 will bring recirculating aquaculture and industrial symbiosis to the table, to start informed conversations about these systems with the expectation of increased social acceptance and fostering their growth and investment.
Vision & Impact
"We are very excited about the prospect of being able to bring RAS-based fish production onto the agenda in our part of Denmark.  Traditionally, fish farming has been based in the mid and west of Denmark, but with RAS farming we are hoping to open the door to new horizons for farmers.
The TETRAS pilot will enable us to address the issues of social acceptance, animal welfare, as well as the environmental footprint of such production units, as without a well-documented pilot with data collection and LCA, there is not much hope of establishing and developing this sector in Denmark. The zoo gives us an ideal base to prepare the next generation of farmers and consumers for a new way of producing fish that can supplement an already successful agricultural sector on Lolland-Falster,"
says Hilary Karlson, TETRAS project manager for Guldborgsund Municipality.
Contact
Hilary Karlson
hika@guldborgsund.dk
Mette Jørgensen
mej@guldborgsund.dk
References
Correia MV, Peres H, Almeida M and Guimarães L (2019). Improving perception and acceptability of aquaculture through hands-on experimental activities for schools. Front. Mar. Sci. Conference Abstract: XX Iberian Symposium on Marine Biology Studies (SIEBM XX). doi: 10.3389/conf.fmars.2019.08.00051. URL: https://www.frontiersin.org/10.3389%2Fconf.fmars.2019.08.00051/event_abstract
Fudge M, Higgins V, Vince J and Rajaguru R (2023). Social acceptability and the development of commercial RAS aquaculture. Aquaculture 568,
URL: https://www.sciencedirect.com/science/article/abs/pii/S0044848623000686
Additional links