Interreg Baltic Sea Region Programme Conference 2022
Physical Meeting
The first get-together after the pandemic: reflections on achievements and outlook on new funding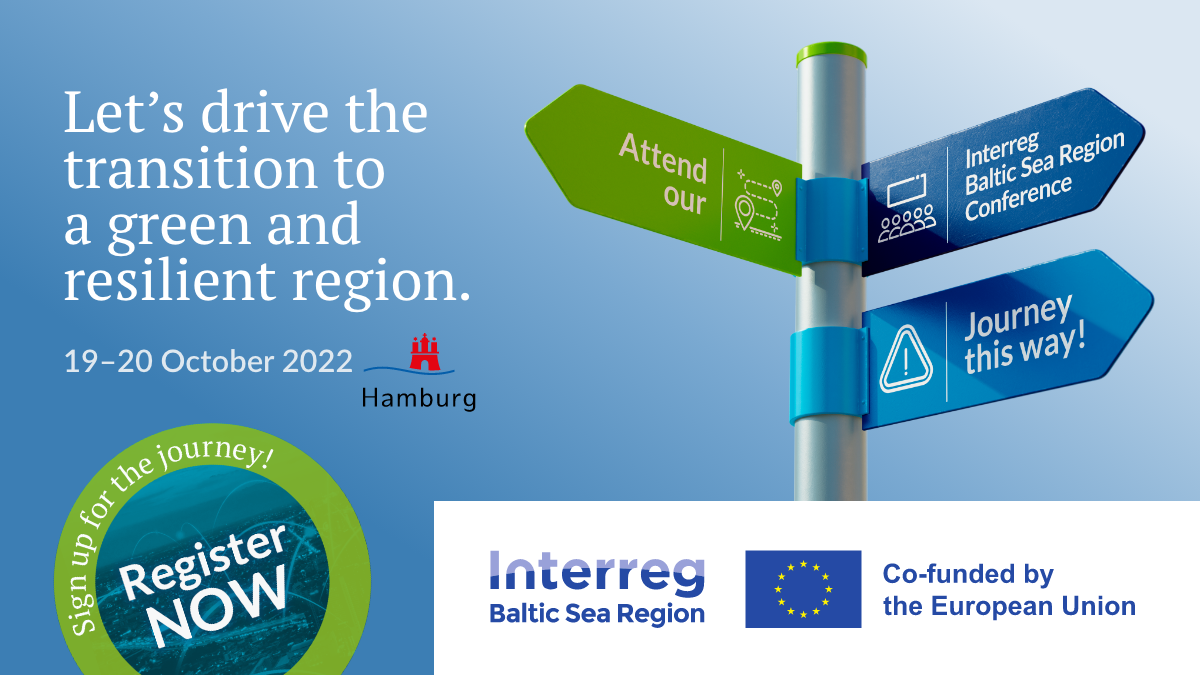 Date & Time

19. - 20. October 2022
18:30 - 16:15 (CET)

Organiser

Interreg Baltic Sea Region in cooperation with the Senate Chancellery of the City of Hamburg

Venue

Hamburg City Hall , Rathausmarkt 1
20095 Hamburg
Germany

Contact
Detail
On 19-20 October 2022, all Interreg Baltic Sea Region roads are leading to Hamburg. Together with the Senate Chancellery of the City of Hamburg, we are hosting the first get-together for our community after the pandemic. If you have fresh ideas for a green and resilient Baltic Sea region, and need EU funding and people to join forces, this is the place for you to be.
We will take you on a journey to experience the good results of completed projects: how have they changed our region? What else should be done in cooperation across the countries? Our Programme offers more than 250 million euros from the European Regional Development Fund, and we are ready to continue the journey with you towards a green and resilient Baltic Sea region.
This conference will provide you with numerous opportunities to expand your professional networks. You will learn about achievements of the completed projects and get a chance to exchange your smart visions for building innovative, water-smart and climate-neutral societies with others. You will meet representatives of the Monitoring Committee, Managing Authority/Joint Secretariat as well as policy area coordinators of the EU Strategy for the Baltic Sea Region. And you will get a grip on the upcoming funding opportunities along with a solid amount of inspiration on how to develop your project ideas. Let's drive the transition to a green and resilient region together. This journey is happening now.
The conference starts with a get-together dinner on 19 October and continues on the following day, on 20 October. Please note that back to back to the conference, we ran the Lead Partner Seminar for first 17 projects approved in the Programme 2021-2027.
See you in Hamburg!
Note: the registration for the conference is closed.
Agenda
Time

Item

19 October

18:30 - 21:00

Get-together dinner at the Hamburg City Hall

20 October

08:30 - 09:30

Registration

09:30 - 10:00

Opening



Address by Almut Möller, State Secretary of the Free and Hanseatic City of Hamburg


Address by Teresa Marcinów, Chair of the Programme Monitoring Committee (Poland)


Meet members of the Monitoring Committee of Interreg Baltic Sea Region



10:00 - 10:45

Interreg travel journal: project achievements



Postcards from the journal: where did we travel in 2014-2020 (Managing Authority/Joint Secretariat)


Panel discussion with the Monitoring Committee members and projects



10:45 - 11:00

Let's meet: who's on the ride? 

11:00 - 11:30

Next stop: coffee break

11:30 - 12:15

Interreg travel journal: towards the next call for applications



First projects selected: what have we learned? (Managing Authority/Joint Secretariat)


Inspirational talks by new projects


Getting ready to set off: next call for applications on the horizon (Managing Authority/Joint Secretariat & Monitoring Committee members)



12:15 - 12:30

Just around (thematic) corners: what have we planned?

12:30 - 13:45

Next stop: lunch

13:45 - 15:15



Just around (thematic) corners: Let's meet!


Newbie info corner (Managing Authority/Joint Secretariat) and Q&A with Interreg practitioners



15:15 - 16:15

Interreg travel journal: wrap-up




Take-aways from thematic corners (Blagoveska Riiser, European Commission; Thomas Jacob, the City of Hamburg)


Where did we get to? (Moving images by ImproBerlin)


Next steps & travel package for applicants (Managing Authority/Joint Secretariat)


Farewell (Ronald Lieske, Director of the Managing Authority and Joint Secretariat; Representative of the City of Hamburg)


Events
Upcoming events
4th Monitoring Committee meeting
Physical Meeting
19. - 20. June 2023
19 - 20 Jun 2023
4th Monitoring Committee meeting
1
2023-06-19
2023-06-20
00:00:00
23:59:59
||
|program|
63
Past events
Webinar on storytelling (small projects)
Virtual Meeting
07. June 2023
09:30 - 12:00 (CET)
07 Jun 2023
Webinar on storytelling (small projects)
0
2023-06-07
2023-06-07
09:30:00
12:00:59
||
|program|
Vibrant, Resilient, Well-connected – The Baltic Sea Region in 2040
Physical Meeting
01. June 2023
10:30 - 19:00 (CET)
01 Jun 2023
Vibrant, Resilient, Well-connected – The Baltic Sea Region in 2040
Experts conference on the VASAB vision 2040
0
2023-06-01
2023-06-01
10:30:00
19:00:59
||
|program|