EEN / EU-FÖRDERUNG kompakt. Interreg Baltic Sea Region
Virtual event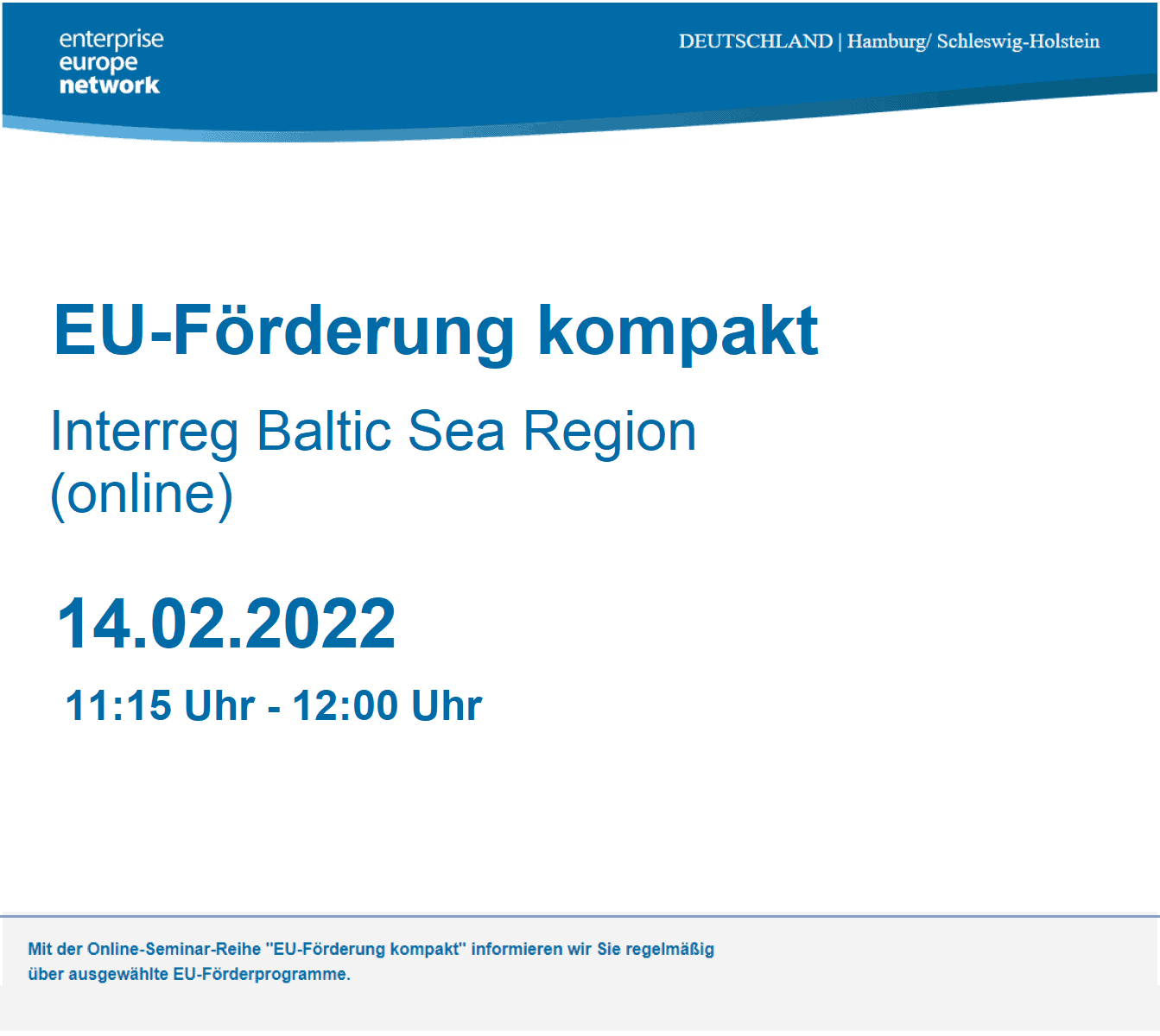 Date & Time

14. February 2022
11:15 - 12:00 (CET)

Organiser

Enterprise Europe Network

Venue

Contact
Detail
This event is directed at applicants interested in applying for Interreg funding with the Interreg Baltic Sea Region Programme 2021-2027.
During this event, Ronald Lieske, Director of the Managing Authority/Joint Secretariat of the EU funding Programme Interreg Baltic Sea Region, will present the thematic priorities of the new Programme for the years 2021-2027 as well as upcoming funding opportunities.
The event will be held in the German language.
Register for the event here.
Events
Upcoming events
4th Monitoring Committee meeting
Physical Meeting
19. - 20. June 2023
19 - 20 Jun 2023
4th Monitoring Committee meeting
1
2023-06-19
2023-06-20
00:00:00
23:59:59
||
|program|
63
Past events
Webinar on storytelling (small projects)
Virtual Meeting
07. June 2023
09:30 - 12:00 (CET)
07 Jun 2023
Webinar on storytelling (small projects)
0
2023-06-07
2023-06-07
09:30:00
12:00:59
||
|program|
Vibrant, Resilient, Well-connected – The Baltic Sea Region in 2040
Physical Meeting
01. June 2023
10:30 - 19:00 (CET)
01 Jun 2023
Vibrant, Resilient, Well-connected – The Baltic Sea Region in 2040
Experts conference on the VASAB vision 2040
0
2023-06-01
2023-06-01
10:30:00
19:00:59
||
|program|