As many as 26 projects that are due to end this year have applied for an extension stage in order to implement additional activities that will increase an overall impact of the project outcomes, and in this way further contribute to a more innovative, better accessible and sustainable Baltic Sea region.

More means for a greater impact
Thanks to the extension stage instrument offered by the Programme, successful projects gain more funds to implement additional activities that will boost the practical application of the project outcomes.
Out of 39 second call projects entitled to apply for the extension stage, 26 of them submitted fully-fledged applications, involving as more than 230 partners from all countries around the Baltic Sea.
The submitted applications cover all thematic priorities of the Programme with 13 applications submitted for the capacity for innovation, seven for the management of natural resources and six for the sustainable transport. "Non-technological innovation" within the thematic priority of the capacity for innovation attracted the highest interest among all the applicants (six applications). In the thematic priority of management of natural resources "clear waters" topic was the most popular.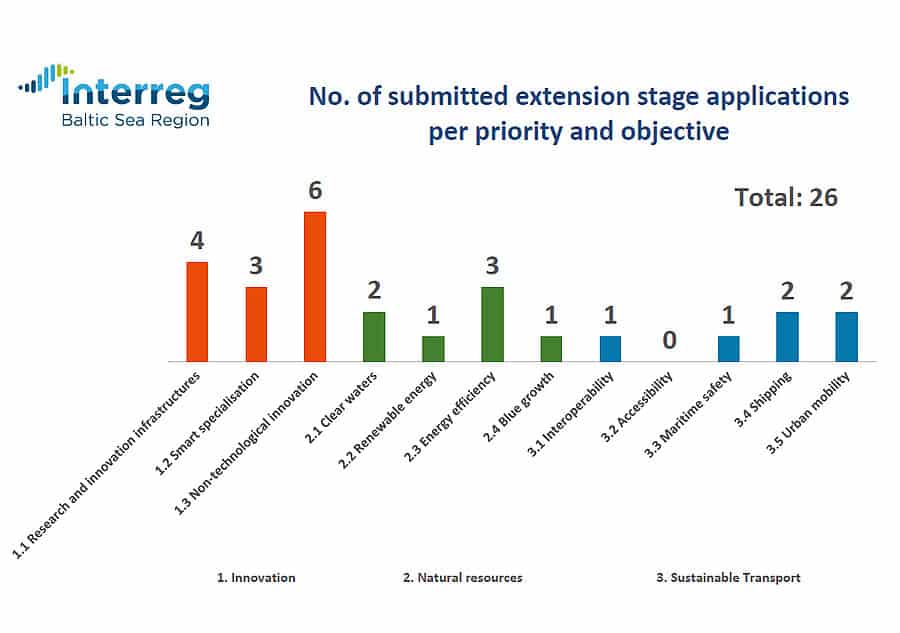 Way ahead
All in all, there is EUR 10.3 million of the European Region Development Fund/European Neighbourhood Instrument and Russian national funding/Norwegian national funding available for the extension stage projects. The Managing Authority/Joint Secretariat (MA/JS) is currently in the process of assessing all the applications. The final decision on the selected projects for funding is expected to be taken at the next meeting of the Monitoring Committee in June 2020.