On 25 September 2019, St. Petersburg welcomed more than 150 participants from the EU countries and Russia at the interactive event "Nature as our common treasure" held in the framework of the European Cooperation Day. Focusing on nature protection and sustainable environmental management, the event showcased how seamless cooperation across borders leads to developing joint solutions to common challenges.

© Anna Leontieva
Cooperation beyond borders
The celebrations of the European Cooperation Day in St. Petersburg gathered officials from Moscow and Brussels, St. Petersburg and Leningrad region, Riga, Helsinki and Tallinn interested in good examples of joint actions across borders, which make the Baltic Sea region a healthier place to live. "The event helps consistently strengthen interregional and cross-border relations among the countries and – importantly – it demonstrates the actual results of joint work done by the EU – Russia cross-border cooperation programmes to the citizens of the regions," stressed Mr Maksim Oreshkin, Minister of Economic Development of the Russian Federation in his welcome address. Mr Alexander Somoza, Policy Officer at the European External Action Service agreed that "cross-border and transnational cooperation between EU Member States and Russia is very valuable; it brings concrete and tangible results, and the European Commission has proposed to continue this cooperation also after 2020".
Inspiring the future
Representatives of twelve projects from four different programmes co-financed by the EU and Russia explained what solutions they offer to protect our shared waters of the Baltic Sea and to manage natural resources in our region wisely. Interreg Baltic Sea Region's WATERDRIVE and MANURE STANDARD projects as well as BSR WATER platform revealed how they were working with national and local decision-makers, farms and water management organisations. Inspired by ongoing cooperation, Russian students from seven grammar schools and eight universities of St. Petersburg and the Leningrad region developed their own project ideas for future collaborations in the Baltic Sea region. The youngsters presented cutting-edge ideas on removing excessive nutrients from soil with the help of biotech bacteria, importance of environmental education in schools, financial potential of ecotourism, protection of vulnerable animals and forests due to human activities, solid waste management in spirit of the circular economy. It appears that our region is in good hands of young innovators and explorers! What's more – "only through cooperation all these ideas may become true" – the youth declared.
The event was co-organised by Interreg Baltic Sea Region and three cross-border cooperation programmes: Latvia – Russia, Estonia – Russia, South-East Finland – Russia, in partnership with the Information and Education Center of "Saint-Petersburg Vodokanal". It is a waste water treatment facility that supplies potable water to the population of 5.3 million people and to tens of thousands of companies and organisations in St. Petersburg.
Article by Elena Kolosova, Managing Authority/Joint Secretariat of Interreg Baltic Sea Region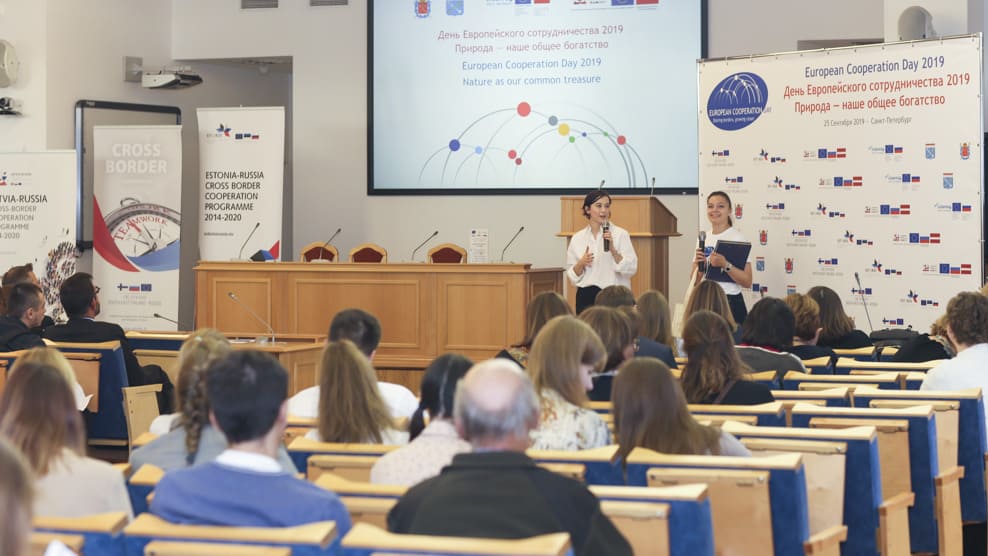 European Cooperation Day in the Information and Education Center of "Saint-Petersburg Vodokanal", 25 September, Russia © Anna Leontieva