Policy Area Energy/ Policy Area Transport
PAs Energy/Transport
PROGRAMME 2014-2020
priority
4 EU Strategy support
objective
4.3 Targeted support & EUSBSR forums
Budgets
PAs Energy/Transport
in numbers
0.61

Million

Total

0.52

Million

Erdf

0.00

Million

Eni + Russia

0.00

Million

Norway
Outputs
Standard Operational Procedure (SOP)
Standard Operational Procedure (SOP) is an action plan, which includes guidelines, manuals and checklists for Rescue Coordination Centres, rescue services, coast guards, fire departments, police, armed forces and other services involved in diving search and rescue missions in an underwater environment. These procedures help harmonise joint actions and reduce reaction time to accidents.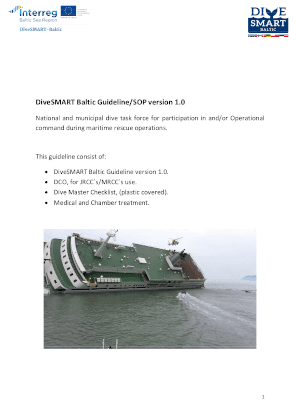 The inventory of human resources and diving equipment
The Jira tool is an online inventory of all the diving resources, capacities, mobilisation times and alarming procedures from the EU countries around the Baltic Sea. It includes information about more than 1,500 divers ready to be deployed in the case of an emergency, and suggested lists of equipment that each country should bare as an emergency preparedness procedure. The database enables Rescue Coordination Centres (RCC) in Denmark, Sweden, Finland, Latvia, Poland and Norway, diving organisations and the local and regional authorities to better prepare for and coordinate activities in case of accidents in the Baltic Sea.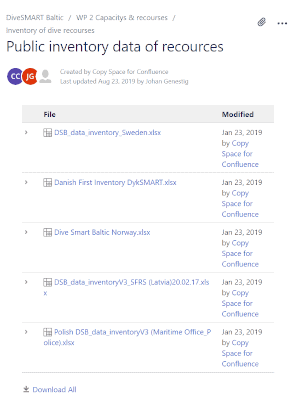 Partners
Ministry of Economics of the Republic of Latvia
Town

Riga

Region

Rīga

Country

Latvia
Representative

Madara Zvirgzdiņa

Phone

E-Mail

Web
Approximate total partner budget in EUR
237,365.00
Ministry of Infrastructure of Kingdom of Sweden
Town

Stockholm

Region

Stockholms län

Country

Sweden
Representative

Thomas Erlandson

Phone

E-Mail

Web
Approximate total partner budget in EUR
195,190.00
Vilnius Gediminas Technical University
Town

Vilnius

Region

Vilniaus apskritis

Country

Lithuania
Representative

Algirdas Šakalys

Phone

E-Mail

Web
Approximate total partner budget in EUR
109,100.00
Ministry of Energy of the Republic of Lithuania
Town

Vilnius

Region

Vilniaus apskritis

Country

Lithuania
Representative

Daumantas Kerezis

Phone

E-Mail

Web
Approximate total partner budget in EUR
65,882.50
Contacts

Project manager

Elina Sergejeva

Ministry of Economics of the Republic of Latvia

Legal representative

Edmunds Valantis

Ministry of Economics of the Republic of Latvia

Financial manager

Elīna Sergejeva

Ministry of Economics of the Republic of Latvia

Communication manager

Elīna Sergejeva

Ministry of Economics of the Republic of Latvia