Coordination for Innovation in the BSR
PACINNO-2
PROGRAMME 2014-2020
priority
4 EU Strategy support
objective
4.3 Targeted support & EUSBSR forums
Budgets
PACINNO-2
in numbers
0.39

Million

Total

0.33

Million

Erdf

0.00

Million

Eni + Russia

0.00

Million

Norway
Outputs
GO LNG platform
This online information platform is meant for stakeholders of LNG (liquefied natural gas) development from business and science. It provides access to industry news, to a business cluster and a scientific LNG competence center, which were set up within the GO LNG project. The Baltic Sea region LNG cluster helps building LNG related partnerships and to establish international business models. The organization unites LNG related industry from around the Baltic Sea and serves as the networking platform for national LNG organizations. Baltic Sea region LNG competence center is a network of scientific and business organizations which provides trainings on liquefied natural gas (LNG) for industry and public stakeholders. The network develops and promotes knowledge on LNG, will enable new research and competence development initiatives to support LNG infrastructure development in Baltic Sea region.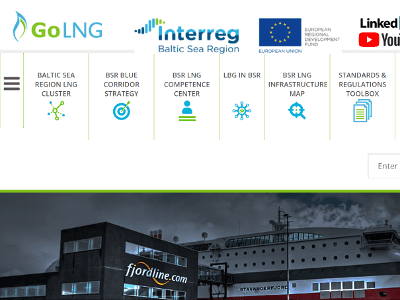 Liquid Biogas Business Concept Field to Ferry
This report presents a business model concept for renewable shipping fuel from local resources in coastal communities in the Baltic Sea Region. It is based on a test case of using liquefied biogas (LBG) from the "green island" Samsø in Denmark within the GO LNG project. The report analyses briefly the emerging market for both liquefied bio-methane for marine transport and the corresponding market for coastal communities to produce biogas and to concentrate the bio-methane in a liquid form either for heavy duty road traffic, for trains or for ferries. The Samsø Field to Ferry business concept is perhaps a one‐of‐a‐kind case, but inspiration can be taken for other localities with similar aims and options. The report combines the biogas planning manual from Denmark with a generalized business concept model and ideas of crowdfunding into a conceptual model for other coastal communities.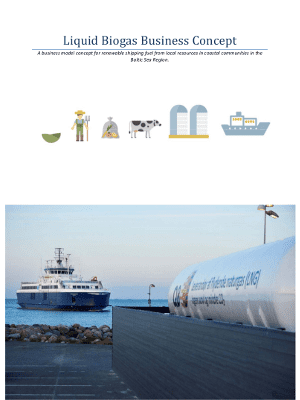 Partners
The Baltic Institute of Finland
Town

Tampere

Region

Pirkanmaa

Country

Finland
Representative

Esa Kokkonen

Phone

E-Mail

Web
Approximate total partner budget in EUR
210,587.00
Ministry of Science and Higher Education
Town

Warszawa

Region

Miasto Warszawa

Country

Poland
Representative

Tomasz Jalukowicz

Phone

E-Mail

Web
Approximate total partner budget in EUR
62,044.00
Ministry of Economic Affairs and Communications
Town

Tallinn

Region

Põhja-Eesti

Country

Estonia
Representative

Reet Reismaa

Phone

E-Mail

Web
Approximate total partner budget in EUR
114,010.00
Contacts

Project manager

Legal representative

Financial manager

Laura Karppinen

Baltic Institute of Finland

Communication manager