Support for coordination and promotion of activities of the Priority Area Secure of the EUSBSR
PA Secure Support
PROGRAMME 2014-2020
priority
4 EU Strategy support
objective
4.3 Targeted support & EUSBSR forums
Budgets
PA Secure Support
in numbers
0.30

Million

Total

0.26

Million

Erdf

0.00

Million

Eni + Russia

0.00

Million

Norway
Outputs
Final report: CleanShipping - Exploring the impact of emission regulation
This report summarises the results of the project EnviSuM - an acronym for "Environmental Impact of Low Emission Shipping: Measurements and Modelling Strategies". In Chapter 1, the authors look at different emission abatement strategies including measurement results from different types of vessels. This section also presents results on the effects of switching fuels, the modelling used to measure ship emissions and compliance monitoring. In Chapter 2, they explore air quality based on emission results. Local air quality was modelled for three urban areas - Gothenburg, Gdansk/Gdynia and St. Petersburg. The effects of shipping emissions on public health and environment are assessed in Chapter 3. In Chapter 4 they discuss the economic consequences of SECA. This includes costs as well as positive effects of SECA, such as inducement to innovate and the enhanced reputation of the Baltic Sea region. The authors conclude in chapter 5 by looking to the future environmental shipping regulations. The report is backed up by a large number of international partner organisations from nine countries, namely the University of Turku (Finland), Chalmers University of Technology (Sweden), Maritime University of Szczecin (Poland), Finnish Meteorological Institute (Finland), Norwegian Meteorological Institute (Norway), University of Gothenburg (Sweden), Tallinn University of Technology (Estonia), City of Gothenburg (Sweden), Voeikov Main Geophysical Observatory (Russia), Maritime Development Center (Denmark), Baltic Marine Consult Ltd. (Germany), Baltic Marine Environment Protection Commission - Helsinki Commission (Finland), Helsinki Commission (Russia), International Institute for Applied Systems Analysis (Austria).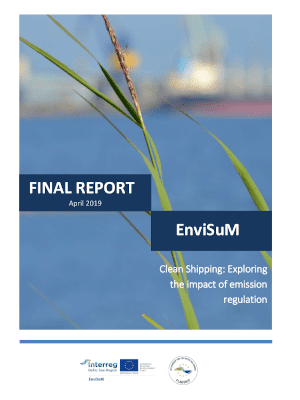 Storymap: Baltic Sea Region Shipping Towards Better Air Quality - EnviSuM results
This interactive online narrative presents the role of shipping towards a better air quality in the Baltic Sea Region using animated videos and maps that highlight the results from the Interreg project EnviSuM. Between 2016-2019, the EnviSuM project - an acronym for "Environmental Impact of Low Emission Shipping: Measurements and Modelling Strategies" has assessed the impacts and costs of ship emissions on the scopes of human health, environment and economics. The information in the story map is useful for a wide range of audience: from experts of the field to the people interested in the air emissions and the state of the Baltic Sea.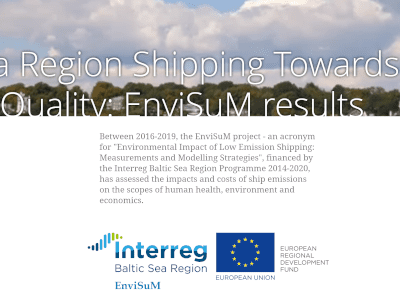 Decision support tool: SECA investments
This web-based visualised economic decision tool helps maritime fuel producers as well as ship-owners to identify the best short or long-term investment and capital budgeting strategies for the future. Compliance with SECA regulations requires investment decisions with a vast impact, particularly in the case of scrubber installations. The investment tool will help companies estimate costs related to SECA regulations and decide which investments to make in order to comply. The tool was developed during the Interreg project EnviSuM for assessing real options for compliance with maritime sulphur regulations.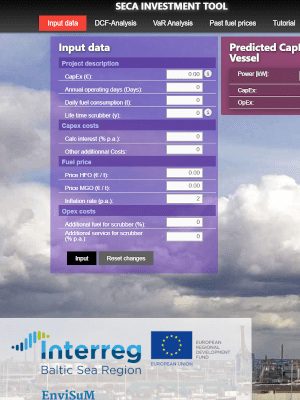 Partners
Permanent International Secretariat of the Council of the Baltic Sea States
Town

Stockholm

Region

Stockholms län

Country

Sweden
Representative

Janusz Gaciarz

Phone

E-Mail

Web
Approximate total partner budget in EUR
220,575.00
Swedish Civil Contingencies Agency
Town

Karlstad

Region

Värmlands län

Country

Sweden
Representative

Julia Fredriksson

Phone

E-Mail

Web
Approximate total partner budget in EUR
83,508.85
Contacts

Project manager

Janusz Gąciarz

The Permanent International Secretariat of the Council of Baltic Sea States

Legal representative

Gertrude Opira

Permanent International Secretariat of the Council of the Baltic Sea States

Financial manager

Communication manager