Support for coordination and promotion of activities of the Priority Area Secure of
PA Secure Support
PROGRAMME 2014-2020
priority
4 EU Strategy support
objective
4.3 Targeted support & EUSBSR forums
Budgets
PA Secure Support
in numbers
0.24

Million

Total

0.20

Million

Erdf

0.00

Million

Eni + Russia

0.00

Million

Norway
Outputs
Competitiveness Improvement Plan: Enhancing inland waterway transport in the Baltic Sea region
This report analyses current status of inland waterway transport and existing bottlenecks in five countries around the Baltic Sea (Finland, Germany, Lithuania, Poland and Sweden). It furthermore proposes measures to improve inland waterway transport and includes recommendations for more efficient structures on the national levels. The plan was compiled by administrations responsible for inland waterway transport, port and shipping companies, lobby organisations and shipping promotion centers in five countries.
IT prototype: Inland Waterway Information system ELIAS
ELIAS is a map-based web application which provides information on inland waterways in the Baltic Sea region. It includes, for example, the positions of vessels, real time water levels, and traffic density and flow. It can be used, for instance, by logistics companies and skippers to plan their inland water transport operations. ELIAS was developed by the Institute of Shipping Economics and Logistics (ISL) in Bremen in cooperation with ports, inland waterway barge operators, port operators and associations in Germany, Sweden, Poland and Lithuania, and it was tested in Germany and Finland.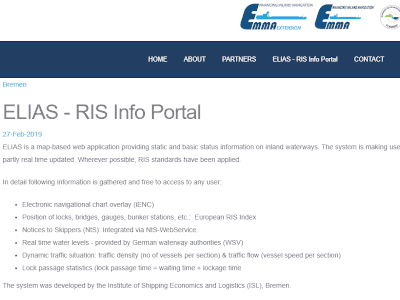 Partners
Permanent International Secretariat of the Council of the Baltic Sea States
Town

Stockholm

Region

Stockholms län

Country

Sweden
Representative

Janusz Gaciarz

Phone

E-Mail

Web
Approximate total partner budget in EUR
175,796.00
Swedish Civil Contingencies Agency
Town

Karlstad

Region

Värmlands län

Country

Sweden
Representative

Julia Fredriksson

Phone

E-Mail

Web
Approximate total partner budget in EUR
59,495.50
Contacts

Project manager

Janusz Gąciarz

The Permanent International Secretariat of the Council of Baltic Sea States

Legal representative

Gertrude Opira

Permanent International Secretariat of the Council of the Baltic Sea States

Financial manager

Susann Burström

Council of the Baltic Sea States

Communication manager

Jacek Paszkowski

Council of Baltic Sea States