Support to coordination and implementation of activities within the EUSBSR Policy Area "Health"
PA Health Support 3
PROGRAMME 2014-2020
priority
4 EU Strategy support
objective
4.3 Targeted support & EUSBSR forums
Budgets
PA Health Support 3
in numbers
0.30

Million

Total

0.26

Million

Erdf

0.00

Million

Eni + Russia

0.00

Million

Norway
Outputs
Joint transnational spatial vision on regional development, logistics and mobility
The document presents Vision 2050 on how the North Sea Baltic corridor covering Estonia, Finland, Germany, Latvia, Lithuania, Poland and Sweden should look like. The chapters describe integration and connectivity, North Sea Baltic corridor backbone, network of secondary connections, smart mobility and multi-level governance. It also includes recommendations on policy improvements, cooperation promotion and improvements of connections. The spatial vision is a guidance tool for local and regional and national authorities, non-governmental organisations and other experts in the region to advance the implementation of the North Sea Baltic transport and development corridor that is stretching from Hamburg to Umeå. The Vision encourages increased cooperation between sectors and countries in order to foster greater cohesion in the region.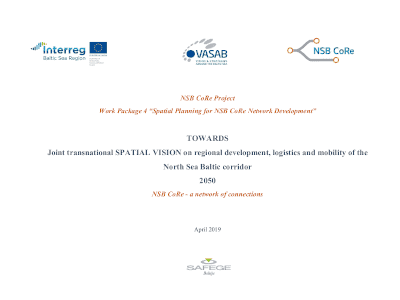 NSB CoRe Interconnectivity and Interoperability Policy Paper
This Policy Paper presents the intermodal logistics situation within the North Sea Baltic Corridor and defines the main needs of the logistic service providers and shippers. It describes the logistics business requirements and networking needs, nodal point infrastructure analysis and ICT solutions for intermodal transport. It also presents main barriers for intermodal transport and what its users think about the opportunities arising from new intermodal infrastructures, especially Rail Baltica. The Policy Paper is of particular interest to policy makers, transport infrastructure managers, logistics service providers and others. It helps identify and develop policies fostering sustainable transport, promote intermodal transport solutions in the market, and start and enhance the existing business relations with other inland terminals and/or port terminals.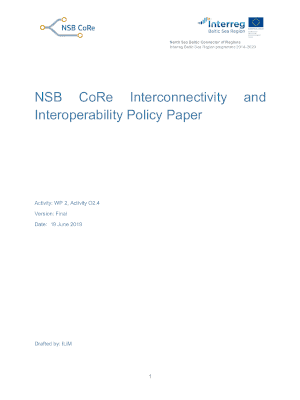 Partners
Secretariat of the Northern Dimension Partnership in Public Health and Social Well-being (NDPHS)
Town

Stockholm

Region

Stockholms län

Country

Sweden
Representative

Ulla-Karin Nurm

Phone

E-Mail

Web
Approximate total partner budget in EUR
303,250.00
Contacts

Project manager

Ülla-Karin Nurm

Secretariat of the Northern Dimension Partnership in Public Health and Social Well-being (NDPHS)

Legal representative

Ülla-Karin Nurm

Secretariat of the Northern Dimension Partnership in Public Health and Social Well-being (NDPHS)

Financial manager

Ülla-Karin Nurm

Secretariat of the Northern Dimension Partnership in Public Health and Social Well-being

Communication manager

Silvija Geistarte

NDPHS Secretariat