Reduce the input of hazardous substances and nutrients to the Baltic Sea 2.0
PA Hazards-Nutri 2.0
PROGRAMME 2014-2020
priority
4 EU Strategy support
objective
4.3 Targeted support & EUSBSR forums
Budgets
PA Hazards-Nutri 2.0
in numbers
0.58

Million

Total

0.49

Million

Erdf

0.00

Million

Eni + Russia

0.00

Million

Norway
Outputs
Policy Brief: Innovation Ecosystems in the Circular Economy
This policy brief "Developing and Managing Innovation Ecosystems in the Circular Economy" outlines the main aims and features of a digital monitoring tool and makes recommendations for how to support the development and management of effective innovation ecosystems. For example, it highlights the importance of fostering a culture of open data sharing amongst key regional innovation actors.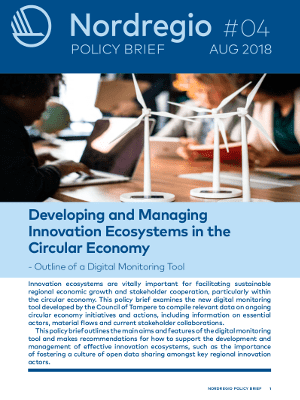 Visualisation tool for circular economy innovation ecosystem
The "Visualisation tool for a circular economy innovation ecosystem" is an online software that compiles data about a circular economy ecosystem. It converts the data into a user-friendly form which shows key actors within the ecosystem and how they interlink. The software uses open data but can also process data from other information sources and is constantly updated with real-time data. The prototype visualizes the circular economy innovation ecosystem of Tampere Region in Finland. The tool is currently password protected and people interested can obtain access upon request. The tool creates the basic information needed to build up an overview of the local circular economy. For instance, it will be possible to monitor different circular economy sub-ecosystems, such as those that focus on e.g. textile circulation or fertilizers.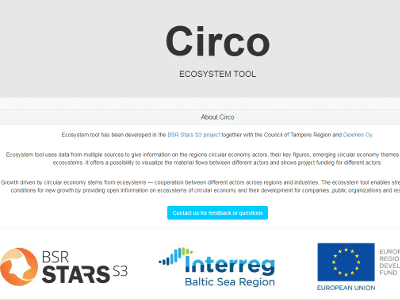 Policy Brief: Inclusive Digitalization
This policy brief "Inclusive Digitalization in the Baltic Sea Region" examines whether inclusive digitalization is an important instrument for promoting regional growth and development in struggling rural areas in the Baltic Sea region. The brief highlights the potential benefits that digitalization can bring and the challenges faced in implementing an effective digital agenda in rural areas. The brief also provides key recommendations identifying possible initiatives and policies that may help local businesses achieve successful digital transformation. These recommendations are based on learnings and best practices from digitalization initiatives conducted in rural areas around the Baltic Sea region.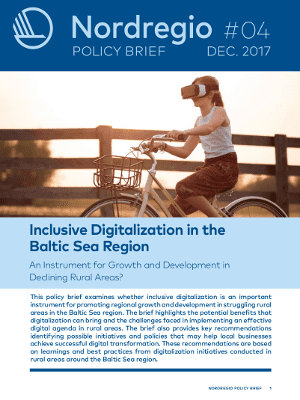 Partners
Swedish Environmental Protection Agency, Swedish EPA
Town

Stockholm

Region

Stockholms län

Country

Sweden
Representative

Maxi Nachtigall

Phone

E-Mail

Web
Approximate total partner budget in EUR
298,950.50
Ministry of the Environment of Finland
Town

Helsinki

Region

Helsinki-Uusimaa

Country

Finland
Representative

Sanni Turunen

Phone

E-Mail

Web
Approximate total partner budget in EUR
282,000.00
Contacts

Project manager

Maxi Nachtigall

Swedish EPA

Legal representative

Maria Ohlman

Swedish Environmental Protection Agency, Swedish EPA

Financial manager

Eva Engdahl-Gäfvert

Swedish Environmental Protection Agency, Swedish EPA

Communication manager

Maxi Nachtigall

Swedish EPA