PA EDU / PA TOU / HA CAP – implementing three work programmes 2018 – (2020)2021
PA EDU/PA TOU/HA CAP
PROGRAMME 2014-2020
priority
4 EU Strategy support
objective
4.3 Targeted support & EUSBSR forums
Budgets
PA EDU/PA TOU/HA CAP
in numbers
0.69

Million

Total

0.58

Million

Erdf

0.00

Million

Eni + Russia

0.00

Million

Norway
Outputs
Realising benefits from TEN-T Core Network Corridors - how, where and by whom?
This report presents replicable know-how about development opportunities and profits related to the implementation of the core network corridors. It offers guidance to European Coordinators, public authorities, infrastructure managers and investors – irrespective of the geographical location – on how to adjust policy actions, governance response and business strategies to fully maximise the benefits and mitigate threats induced related to the investment along the corridors. Intergovernmental networks and the Coordination Group of the EU Strategy for the Baltic Sea Region Policy Area Transport shall also find this report useful in promoting the successes of the implementation of core network corridors.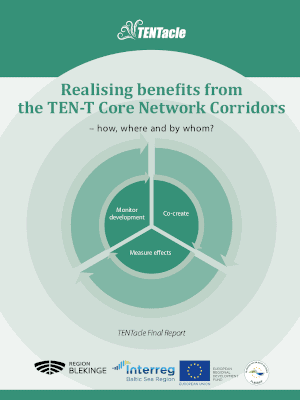 How to use the Fehmarnbelt Fixed Link as impulse for regional growth
This guidance paper is dedicated to exploring the Fehmarnbelt Fixed link, which is a planned tunnel connection for road and rail transport between Rødby on Lolland (Denmark) and Puttgarden on Fehmarn (Germany), and an important part of ScandinavianMediterranean (Scan-Med) TEN-T core network corridor. The paper includes a detailed impact analysis of the new connection and is a useful tool for planners from national and regional public authorities and businesses especially in Denmark, Germany and Sweden, for developing strategies that would help maximise the benefits from the new connection.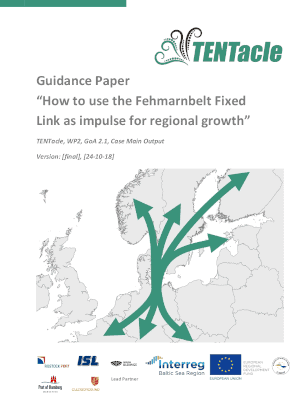 Partners
Norden Association in Sweden
Town

Stockholm

Region

Stockholms län

Country

Sweden
Representative

Anders Bergström

Phone

E-Mail

Web
Approximate total partner budget in EUR
399,675.00
Hamburg Institute for Vocational Education
Town

Hamburg

Region

Hamburg

Country

Germany
Representative

Beate Gröblinghoff

Phone

E-Mail

Web
Approximate total partner budget in EUR
97,773.75
Ministry of Economics, Employment and Health Mecklenburg-Vorpommern
Town

Schwerin

Region

Schwerin, Kreisfreie Stadt

Country

Germany
Representative

Gerd Lange

Phone

E-Mail

Web
Approximate total partner budget in EUR
147,415.00
Union of the Baltic Cities
Town

Gdańsk

Region

Gdański

Country

Poland
Representative

Pawel Żaboklicki

Phone

E-Mail

Web
Approximate total partner budget in EUR
41,550.00
Contacts

Project manager

Anders Bergström

Norden Association in Sweden

Legal representative

Josefin Carlring

Norden Association in Sweden

Financial manager

Caroline Liljegren

Norden Association in Sweden

Communication manager

Ida Berg

Norden Association in Sweden